At home resting after a busy few days and watching some good old Saturday night TV, I saw a guy mention on a talk show something about how small we are compared to all the billions of stars and galaxies and whatever – and the question that popped into my mind was – "so if we are all so small and insignificant, why do all the details of my life feel so big to me?"
I don't really have an answer to that.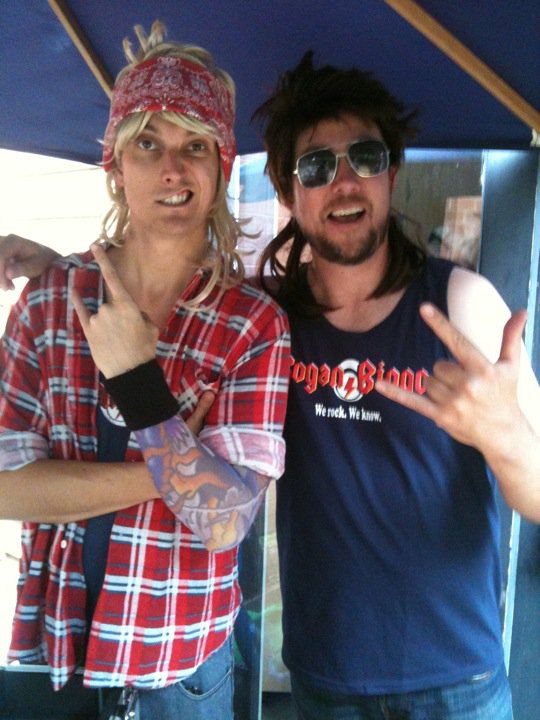 Then I got to thinking about what I do with my time, and how I tend to go off on tangents and be all over-extended, doing and starting things that aren't really part of the "plan". And how I habitually do things that in some way, even if mostly just imagined, put me in a vulnerable position.
Most people, especially those pushing forty like me (Aggh!) play it safe. They don't put themselves out there, but I do. That's what it means to be an artist.
I still gig and while on stage I bare my soul both through my music and through the rambling in-between songs, the jokes and the swearing and ranting and stories and Kramer-esque unsubtle honesty that people love. The saying of the things they play it too safe to say. (I don't mean that as a criticism – safe makes sense.)
I write blogs like this, instead of just keeping my head down.
Then I do things like I did today. Things that barely make any sense, yet I kind of get off on it.
How I Get Off
Hmmm? get off? Sound interesting?
Well it's nothing sexy, ok? Unless this photo is your particular cup of bourbon.
This is what I did today that to me is the equivalent of being an adrenalin junkie. I drove one hour to a complete stranger's hens party in the Melbourne inner-suburb of Brunswick and dressed up as a bogan for money, as you do.
For all overseas readers, a bogan is an Australian thing, kind of equivalent to a trailer-trash redneck in the US but quintessentially Aussie. Refer to the photo – taken today. I am the brunette. Gizz a kiss.
I didn't just randomly rock up to a party uninvited and dressed up as a bogan, although that would be a funny thing to do.
I was hired as part of an act called Bogan Bingo. And the scary thing was I hadn't done it before and I only had half an hour's practice before I did the gig, and I didn't know the guy I did the gig with (I do now, his name is Josh, a consummate professional), and I had to operate a DJ mixer in tandem with a laptop to play music and cue grabs of songs that formed the punchlines to a set of jokes set up by the MC – and there was a very real chance that I could screw everything right up. It was all very nerve wracking…
…and I loved it.
Why?
That's where I thrive. I actually thrive on uncertainty. A handy skill in an uncertain world.
That's why I love playing my music on stage – because no matter how many gigs I do or how many times I have played a song before, every gig is a tight-wire act that could conceivably fall apart at any moment. Every gig is different. A brand new, living, breathing organism that will only exist in time for a single tiny window of time before dissolving back into the ether.
I don't want to jump out of planes. I don't need to. I have two ways of getting my kicks, my adrenalin rush. Put myself into a new situation (job, a new type of stage performance, a foreign country) or do yet another gig playing my music. That's where my buzz lies.
A Funny Thing Happened As I Was Walking the Dog  Today
By the way – it's an interesting story how I scored this ridiculous gig (which is just a laugh for me really, one that happens to pay), I went to the park with my daughter and my dog. And, this summer being what it is, it started to rain. There was only one other guy there, with his dog. He happened to be pretty friendly, and skilled enough at starting conversation that he got around my usual reluctance to engage in small talk (when sober anyway). Kept asking me about what I did, my work. At the time (how quickly things change) the year had not gotten underway with gusto and I was genuinely wondering if my online marketing business was going to survive or if it was time to find something new.
Then I asked what he did. "Bogan Bingo", he says, with a shrug.
"Oh yeah, I see your van with the logo painted on the side up the road. "Balls On Fire Tour", right?"
"Yeah, that's my business", he says. Goes on to explain it all and how he employs people to run the shows for him; how it's a gas.
I go home, do some Googling. It looks like a stupid, silly, idiotic thing for a respectable father-figure type such as I to get involved with.
Perfect. Count me in!
I email the man, Darren is his name, enquire if he needs anyone new. He does. Voila. I'm a professional bogan.
Life is weird, the Universe is massive and I'm a professional Bogan.
It's all about hitting your mid-thirties and not just giving up. Back in the 90s all of us Gen X'ers were going to DO something. Something awesome.
OK it wasn't dressing up as a bogan, but it wasn't rotting in a dead-end job and slowly dieing of boredom either…