You've made the plan. You know what you want and have a good idea of how you might go about starting to get it. It's all there – all you've got to do is make the call, spend the money, have the difficult conversation.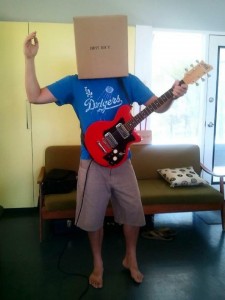 Often this is the point where the detailed plan gets put aside for a little bit, maybe for too long. If you leave it long enough then the plan becomes redundant. A part of you, the part that likes the safety of dreaming and planning, likes that tactic, because it just gets to enjoy creating a vision all over again without having to do the difficult work. That's why "vision quest" type books and workshops sell so well, because they allow us to justify procrastinating indefinitely.
I remember once asking someone how they went at a motivational seminar they had just attended. "Awesome!" came the reply, "I felt a real shift!"
"Shifts" are nice – and important (I enjoy a good shift as much as the next guy) but Einstein was right – nothing happens until something moves.
Next Gig: Feb 17th – Melting Pot CD Launch (I am featured on their 1st compilation CD), 7pm, Seraphim (formerly Vibe On Smith), 123 Smith St Fitzroy, Melbourne