A week ago after more than 20 years, I decided to quit music forever. I was in a REALLY dark place and had just had enough of everything. Emails were sent. Bands were cancelled. Better Half rolled her eyes.
Yeah, she was right, that lasted about 2 days. Now it's 12:30am and here I am writin' tunes & I have a gig tomorrow at Sooki Lounge here in Belgrave ha ha.
This new song is about that, going dark, losing it, then finding the resilience to brush yourself and have another crack.
WARNING: UNFINISHED, STILL QUITE CRAP, RECORDING SKILLS LAUGHABLE
(if anyone has any idea how to make that freakin' popping noise stop, please put me out of misery)
Self Conscious Justification
Thought I'd spontaneously do something and document writing new songs. I have 2 finished works – one out now and one to come out later this year – but I am really keen to move on and start a new round of songwriting. And what the hell, I thought I'd start recording the process & documenting it to the wide wiggin web.
Today I got a RODE podcaster USB mic, you see, so I came out to unpack it and plug it in at about 9pm and just kept going. All these years playing I have avoided learning to record my own music but what the hell, you know I want to.
But right now? I have NO idea. But what hell. I have a sweet mic, a pretty doughy DELL laptop and a subscription to Adobe (all of which I justify for spending cash on for work). Adobe creative cloud has a program called Audition so after setting up this: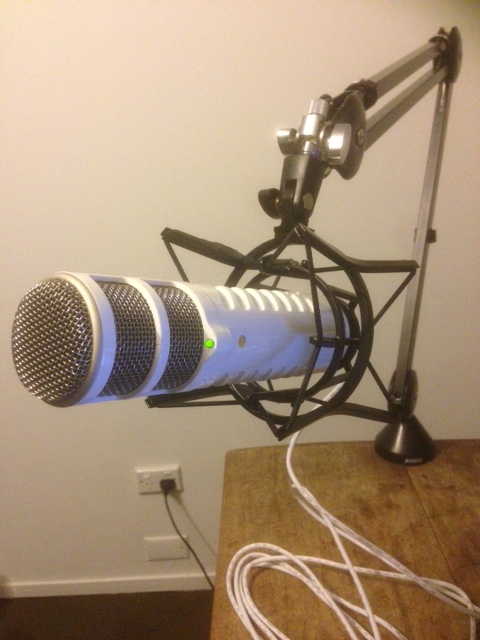 … I decided to fire it up. Oh I hadn't downloaded that one yet … oh Adobe won't let me download it even though I have paid for it because they don't support Vista. (Yeah I know, I know, must update …). Also fuck you Adobe.
SO what the hell, download Audacity, it's free, people only ever say nice things about it.
Gave it a whirl, have NO idea why it keeps clicking but I am sure I will learn over time. But for now, I just wanted to get back to the guitar (like 2 hours of pissing around from unpacking the microphone and setting it all up to figuring out the software to be able to at least start the journey).
Got back to the song I am writing. I enjoy the process of songwriting so much. It's like exploring, you never know what you're going to bump into next. And it's also like sculpting, you start out with a big mess of clay and you slowly but surely shape it into something that has form, and if you're lucky, merit.
This one is about halfway there, the big hooks have materialised, I have most of the lyrics, now I just need to do the long repetitive process of playing it over and over and over one zillion times until the finer details fall into place. There's still a long way to go, lots of meandering crap that needs to be culled, a middle that doesn't know what to do with itself, a chorus that doesn't know where to go after it gets all dramatic. Just sort of ends up there, suddenly embarrassed about itself for losing it's cool.
I'd better go fall into place myself… the warm soft place of noddy… kids won't give a shit that I was up late ha ha
p.s. If I am going to actually use this website I'd better update it, it's a bit of a turd really… my attention has been on Zuiiza.