The following is the story of one idiot (me) trying to take the cheapskate option and hand-make five CDs to send to CDBaby to sell. And of how it nearly drove me to cause some kind of act of mass destruction that, had it actually happened, would more than likely have involved a printer, an Officeworks outlet, the five CDs in question, a life-size reconstruction of that zeppelin that blew up and one of those really long BBQ matches.
Let me explain…
A few weeks ago in an inspired (but stupid) moment I decided to hand-make the first five copies of my forthcoming "Dogs May Bark" CD. My rationale, if you can call it that, was to make them cheaply as a kind of mini-investment, sell them, re-invest the profits, make a few more and so on so that as I made more discs each time each batch pays for themselves and contributes to the next batch, or something like that.
I mean, I didn't actually do a budget, I just figured it'd work out …
What's more I gave myself 7 days to do it.
Yeah right.
I would like to say now, to the very few that will read this, that I will categorically never ever do that again even if some axe-wielding-maniac threatens to castrate me unless I do. I mean that. I will place my precious boys out on the block without resistance and contort myself in such a way as to give the man a clear shot and no chance of missing.
You see it should have been easy to make 5 CDs – but nay, it was in fact a complete pain the arse.
It started with the design. I asked my wife-except-for-the-marriage-bit to design the cover for me. That turned out ace but me nagging her to get it done within the 7 days didn't do our relationship any good, especially seeing as our little darling 9 month old was keeping us up all night for no damn good reason (that we could ascertain anyway – you think WHAAAA! makes no sense during the day, try figuring out that shit at 4am).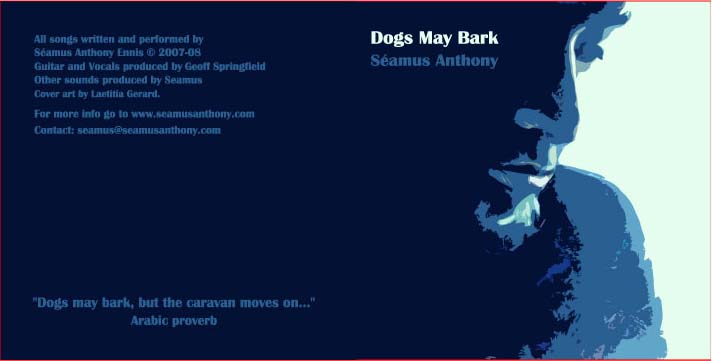 Then I had to buy the discs. I went to Officeworks and bought those discs with the white printable tops – but they only seem to come in those thin covers with no back insert facility. This would have been ok if I hadn't just spent five days stressing my girl out to get a back insert made. So I had to buy another bunch of non-printable discs so I could use their full size cases.
Of course I didn't notice this in the shop, my girlfriend noticed it back home. So I had to go back to Officeworks to get those bigger jewel cases. That took me about a week to get around to. (It's cold out there in Melbourne right now, and we live in the hills too. So you can see why I am so ambivalent about losing my nads – I can't feel them anyway.)
Oh and on another tangent: Why are they called jewel cases? Is it because if you didn't extract the oil to make the plastic covers that oil might turn into a diamond one day?
Anyway so then I needed five covers and we had run out of paper to print them and besides normal office paper wasn't going to cut it so I bought some nice card but they only had 80% recycled. Hey, we all make compromises sometimes.
Yeah so look I went home and the printer was in its box because we moved house two years ago and we never seem to use it. Meanwhile we have changed computers to a nice new Mac (from a shitty old PC). Of course the printer wouldn't work would it. And no idea where the driver disc is and it probably was just for PC anyway so spent an entire Sunday finding a driver to get it working. You know, searching through lame suggestions in forums until you finally find the answer yourself in some kind of zen-koan satori breakthrough. (I know what I mean, that's all that matters.)
But, says the little pop-up, there are three empty printer cartridges….
One million dollars and another trip to Officeworks later…
Printed the covers. Ok. Look good.
Somehow it takes me until the next Sunday to get around to figuring out how to print the discs. By the very end of that nice sunny-outside Sunday I discover that although the driver I downloaded works for paper, it won't work with the CD-Label print software that I spent the first half of the day discovering I needed. I think it was Tuesday before I printed the CDs.
And of course the whole 7 day thing is a dead duck by now obviously.
So now I have paper covers and sweet looking discs but I need to cut them out. I cut out one with some crap old scissors we have but it looks all wobbly and it took far too long. And then they don't fit anyway. The cd artwork template we downloaded from the internet (we googled "CD artwork template") wasn't the right size! They were about a centimetre out!
Damn it! I DEMAND my free useful shit from the internet to be accurate ok?! Jeez!
So then (about a week later) I have to go to Officeworks AGAIN to get them to guillotine the covers. Which they slug me five bucks for. And while I was waiting for the McGenius who served me to find the time to slice my paper, I impulsively bought some cool computer speakers that I couldn't believe were only $120.
Suffice to say, my little budget has gone right out the window by now and there is no way in hell I am making anything less than a $500 loss on these first 5 Cds – especially because in my infinite financial planning wisdom I totally forgot to factor in that I paid to get the recording done in a studio (well, the basic tracks, I did the cool computer sounds on my iMac). So what the hell kind of bizzaro-budgeting planet I was on in the first place I do not know.
And then I go to post them. I never post shit so I thought you know, maybe it's be five bucks to send them to the USA from Australia. U-Uh. over $20 bucks. So I'm like "Oh so they get there pretty quick though huh?"
The post office lady just grunts. I had to strain to hear her sweet dulcet tones properly but I am pretty sure she said "A week".
What are they sending them by? Canoe?
So suffice to say I was more than glad to wave those five little fuckers off and I hope the CDBaby people enjoy them and I went straight home and got three quotes for 100 cds done professionally and was perfectly happy to place a $500 order and I will never, ever go near the idea of home-making my CDs ever again. Good luck to you should you try.
And my back hurt typing this drivel so go to my myspace page shop and listen to my music already and then email cdbaby at cdbaby dot com and tell them you want one of the only five hand made CD copies of "Dogs May Bark" by Seamus Anthony, which are currently being paddled furiously to Portland from Melbourne, Australia by one poor sod who alone in this world truly knows the deeper hidden meaning behind the popular adage "to go postal".
Enjoy this post?
Then why not

click here to Subscribe by RSS
Or fill in the form below to receive updates to the blog by email. (I hate spam too so relax.)